Join Us
We invite you to join our caring community.
Our members enjoy access to a network of volunteers who are ready to help and who enjoy our health/wellness, educational and social events..
Become an ERCV member TODAY!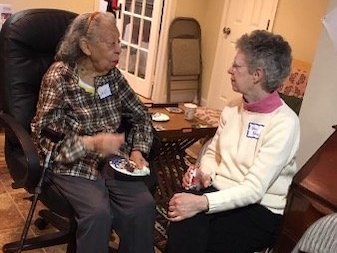 Volunteer
Volunteers are the heart and soul of East Rock Creek Village.
Are you newly retired? Do you like meeting new people?  Do you have an hour or two to help a neighbor?
Become a trained and vetted ERCV volunteer!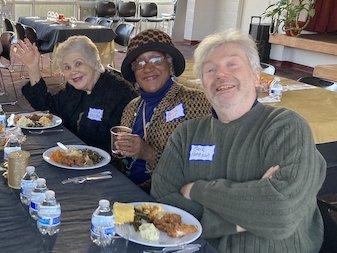 Donate
Your generosity will ensure that our Village will be able to respond to the changing needs of our aging neighbors and continue to provide local volunteer opportunities and meaningful connections. Invest in our caring community.
Become an ERCV donor!
Sign Up For Our Newsletter
What is a Village?
It's not a physical place, rather it is a brilliant idea about how a community of neighbors can help older

people stay safe and independent in their own homes in the neighborhoods they know and love.
The village model consists of community-based, nonprofit organizations with a mission to provide programs, services, social activities and volunteer opportunities to help older adults stay active and connected in their communities.
Meet Unmet Needs
Empower Independence
Create Connections
Reimagine Aging
Build Community
Events
Please register online for ERCV events that are held in-person or on Zoom. Click on event titles below to read more about the event and get registered. 
Once registered, you will receive a confirmation email with instructions, including the Zoom link for online programs and reminder emails prior to the event. Online event reminders may include a "Join Online Meeting Now" button for easy access.
If you have questions or need assistance to register, please call the office at
202-656-7322
or email
[email protected]
.
Recent News & Updates
Click on the titles to see more….
More than one thing can be true at the same time. It can be mid-autumn and be nearly 80 degrees Fahrenheit outside. The sky can be bright blue, colorful leaves can decorate our neighborhoods, and the world can be in crisis. The last few weeks have been...
Into Autumn John Keats' ode "To Autumn" celebrates the fleeting beauty of these months as a "Season of mists and mellow fruitfulness". Truly this is a time to savor the weather, share our bounty with others, and take time to plant seeds for future feasts. In a...
Health and Wellness
Take a class, take a walk, throw a party!
Otago Fall Prevention Exercise Class
Neighborhood Walks
Socialize
Villages are part of a movement for aging well
Social isolation, which the U.S. Surgeon General has declared a public health crisis in the United States, can be one of the hardest parts of growing older, which is why having a Village in your community is so important.
Dr. Vivek Murthy, the U.S. Surgeon General, recently released the first-ever report on loneliness and isolation in the United States, highlighting the health risks that come from a loss of social connection. "Social connection is as fundamental to our mental and physical health as food, water, and sleep," Murthy said in releasing the report.  Click here to read the full report. 
According to a 2022 survey of Village members in DC:
More than two-thirds of respondents said they hardly ever felt isolated from others.
70% said they hardly ever feel left out
92% report that Village membership made them feel a part of a caring community, citing new friendships, improved quality of life, and a positive attitude toward aging as benefits from their affiliation with their local Village.
Village members aren't the only ones to benefit. Research has shown that volunteering provides many health benefits, such as improving physical and mental health, providing a sense of purpose, and nurturing new and existing relationships.  Helping others increases dopamine levels in the brain providing a sense of well-being and reducing stress and anxiety.
East Rock Creek Village
Enjoy meeting friends and neighbors!